APACH
Do you like Crans-Montana and its region and are you keen to play a more active role here? Join our Association and get the most from your resort!
We play an active part in the cultural and sporting life of Crans-Montana
We represent the interests of all property owners
We organise convivial meetings or exclusive gatherings
Apach is a federative body acting as a think-tank and an organiser in Crans-Montana.
Highlights
Journal de l'Association des Propriétaires d'Appartements et de Chalets de Crans-Montana.
Avril 2012 no1.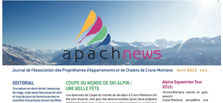 Our sponsor Roger Moore
Convinced of the worth and influence of our Association, Roger Moore did not hesitate to join APACH.